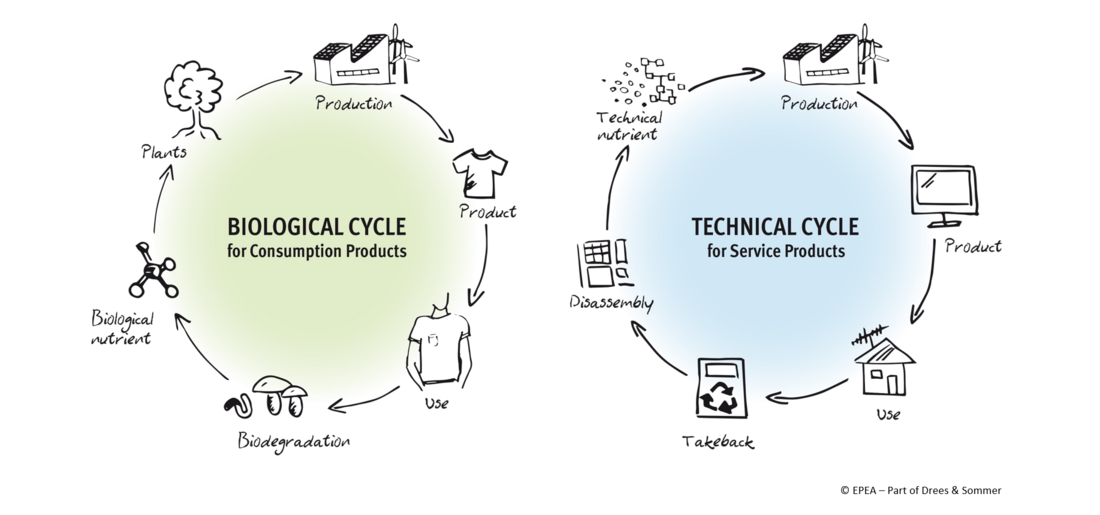 Dal modello Cradle to Grave al modello Cradle to Cradle
L'LCA è definita "dalla culla alla tomba" del prodotto, è un'analisi che parte dalla "culla": i primi momenti della creazione del prodotto, fino alla "tomba": il momento in cui il prodotto viene convertito in rifiuto. L'economia circolare si spinge oltre, andando a trasformare l'analisi sopra definita "dalla culla alla tomba" in un'analisi di circolarità, e quindi, in un'unica valutazione definita "dalla culla alla culla".
Nel 2002 William McDonough e il chimico Michael Braungart hanno definito il termine "dalla culla alla culla" nel loro libro intitolato Cradle to Cradle: Remaking the Way We Make Things.
Hanno presentato un progetto di riprogettazione che porta benefici alla società attraverso i materiali, l'acqua e l'energia. Nella loro idea, eliminano il concetto di rifiuto. Nel libro sono stati elaborati tre principi derivati dalla natura:
Tutto è una risorsa per qualcos'altro: in natura i "rifiuti" diventano cibo per altri. Tutto può essere progettato per essere smontato e restituito al suolo in modo sicuro come mangime biologico, o riutilizzato come materiale di alta qualità per nuovi prodotti come mangime tecnico senza contaminazione.