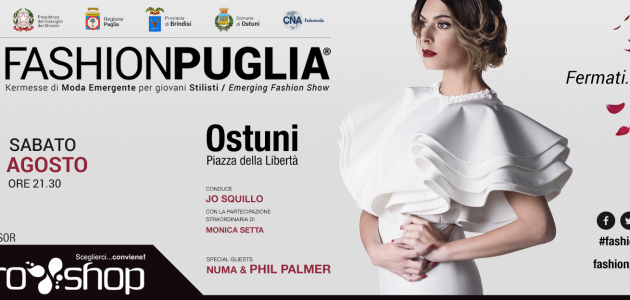 FASHIONPUGLIA 2017 –  THE DAY AFTER 
La moda trionfa a FashionPuglia con Dradi Dimita
Gradi Dimita, emiliano di adozione ma bulgaro di origine, è il giovane talento che ha vinto la V edizione di FASHIONPUGLIA.
Il giovane designer, premiato da Gianni Molaro insieme alla stilista Biancamaria Gervasio, il maestro Angelo Inglese e il Responsabile Cna Federmoda Antonio Franceschini, ha presentato una collezione innovativa e accattivante dal titolo "The Crown of Love".
Un risultato importante è stato quello ottenuto da  Dradi Dimita che ha vinto anche il Premio Critica, la realizzazione di uno shooting professionale con relativo catalogo moda offerto dall'organizzazione di FashionPuglia e la visibilità online per sei mesi su
UFASHON
digital platform.
---
"FERMATI. AMALA."
FASHIONPUGLIA 2017 – Ostuni, 5 Agosto  
Diamo voce al talento degli artisti emergenti
"Fermati. Amala." È questo lo slogan della quinta del FashionPuglia, un evento totalmente dedicato ai giovani di talento, alla moda emergente e alla femminilità.
L'evento, nato nel 2012 prodotto da Tuttavita srl si terrà domani a Ostuni, e sarà una vera e propria kermesse completamente dedicata alla moda e ai giovani fashion designers.
FashionPuglia nasce con il desiderio di dare agli emergenti fashion designers italiani un'opportunità di farsi conoscere attraverso l'esaltazione della loro creatività e del made in Italy.
Una iniziativa che sottende, infatti, per i giovani artisti delle importanti opportunità anche di tipo professionale di formazione: i premi messi in palio consistono in strumenti di formazione e promozione, elementi fondamentali per supportare e sostenere i partecipanti nell'intraprendere la propria carriera lavorativa nel mondo del fashion system.
L'evento, inoltre, coinvolge accademie e scuole di moda italiane e vanta una giuria composta da stilisti di fama internazionale, giornalisti, bloggers ed esponenti di associazioni del settore.
Ogni anno la kermesse diviene punto di raccordo tra artisti e designers provenienti dalle location più suggestive della Puglia, e coinvolge un pubblico sempre più eterogeneo e appassionato.
Oggi FashionPuglia può essere considerata come una la vetrina di eccellenza per la moda donna emergente e, costituisce un reale il punto di riferimento per tutti coloro che vogliono scovare, scommettere e investire sulle giovani idee e su nuovi fashion designer/stilisti.